Main content starts here, tab to start navigating
Menus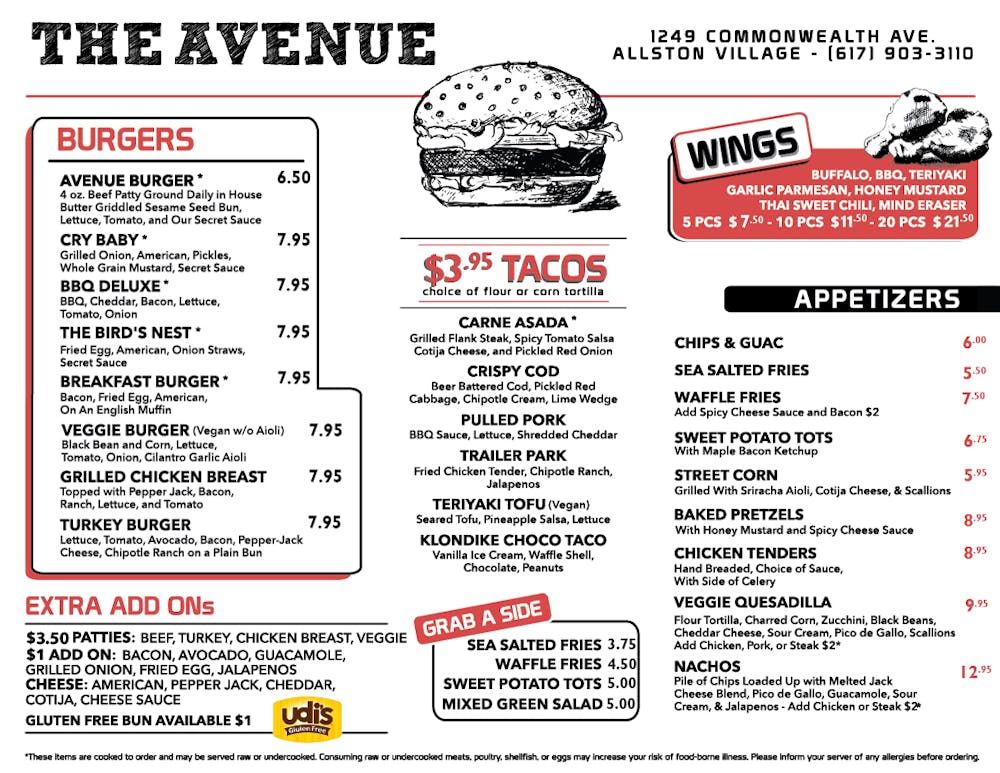 Download PDF
*These items are cooked to order and may be served raw or undercooked. Consuming raw or undercooked meats, poultry, shellfish, or eggs may increase your risk of food-borne illness. Please inform your server of any allergies before ordering.
FROZEN DRINKS !!
The Mudslide., $14
One for the dessert lovers out there. Especially if you like your dessert to have a kick! Baileys, Coffee Vodka, Ammaretto, Ice cream base, Swizzle of Ghirardelli chocolate syrup. So simple. So cold. So muddy. So Slidey. Available togo!
Why Is All The Rum Gone? (Frozen Pina Colada), $12.25 (add $2 for a Gosling's dark rum float!)
Malibu coconut rum, Coco Lopez and pineapple juice, blended in our frozen drink slushie machine, it's almost like you're on a tropical island paradise if that paradise was a parking lot in Allston. Available togo!
Summertime 'tails
The Mo-YEET-oh!, $12
For all you Mojito lovers out there, here is The Ave's answer. White rum, house made simple, fresh lime, fresh mint, your choice of peach/blackberry/pineapple puree, shooketh and topped with sprite. Kick back, 6 feet, take a sip, say Yeet!
Dr. Steve Brule's Summer Sangria, $12
Aperol, Grand Marnier, lemon juice, rhubarb bitters and peach bitters topped with red wine- Dr. Steve Brule approved
Iced Allston Molassacre, $13
We firmly believe all iced coffee should be spiked.
Tito's Vodka, Creme de Cocoa, cold brew coffee and house-made molasses, brown sugar and vanilla simple syrup, a pinch of sea salt
The Comm-Ave Cooler, $11
It's everything you want in a patio mimosa.
Ketel One Peach and Orange Blossom Vodka, Rose Spritz bubbly, splash of cran and OJ. Sit back and Enjoy the sights of Comm Ave with one of thse babies
Rat City Negroni, $12.25
Our spin on a classic:
Tanqueray Gin, Campari, Antica Formula Vermouth, our house-made honey, coriander and clove simple syrup, ginger bitters
Draft Beers
Jack's Abby House Lager 5.2% (16oz)……$7
Allagash White 5.1% (16oz)…… $7
Downeast Cider 5.1% (16oz)……. $7
Victory Golden Monkey 9.5% (12oz)...... $8.50
Dogfish Sea Quench 4.9% (16oz)……. $7
Guinness 4.2% (16oz).…… $7.50
Springdale Lavenade 4.5% (16oz)……. $7.50
Harpoon IPA 5.9% (16oz)……. $7
Lone Pine Brightside IPA 7.1% (16oz)……$8.00
Zero Gravity Conehead IPA 5.7% (16oz)……. $7.50
Mighty Squirrel Cloud Candy IPA 6.5% (16oz)…. $8
Bent Water Double Thunder Funk DIPA 9.2% (12oz)… $9.00
Bottled Beers
Budweiser..... $5.50
Corona.... $6.50 (Get a bucket of 5 for $30!)
Heineken.... $6.50
High Life..... $4.25 (Get a bucket of 5 for $20!)
Narragansett..... $4.50
Sam 76..... $6.00
PBR Hard Coffee.... $6.00
Twisted Tea Half & Half...... $6.50 (Get a bucket of 5 for $30, Feel the rhythm! Feel the Rhyme! Come on Yall its TEA TIME!!!!
Bud Light Lime Seltzer..... $6.00
Green State Lager.... $6.50
Victory Sour Monkey.... $8.50
Shiner Bock 16oz can..... $7.00