Main content starts here, tab to start navigating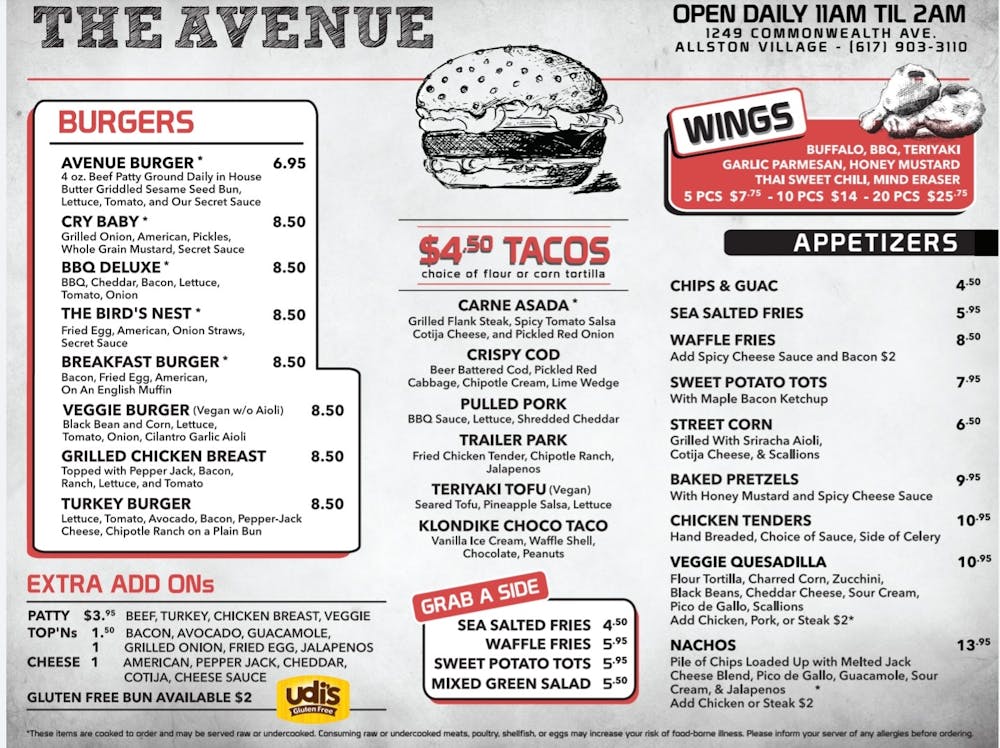 Download PDF
Food Specials!
The Creme de la Creme Burger!__$9
Burger with Bacon, Brie, bacon aoili, and carmelized onions.
Grilled Cheese & Tomato Soup__$10
Shrimp Elote Salad__$14 - 8 Crispy Shrimp and Grilled Elote on chopped salad with a chipotle sriracha aioli. (staff favorite)
Warm Three Bean Dip! - Melted Cheddar Jack Cheese, Pico De Gayo, Sour Cream, Jalapenos, served with tortilla chips __$11
Flatbread Cheese Pizza Special!__$8...Extra Toppings $2!
Cheesecake (Rotating Flavor) __$6!
Gingerbread Cake__$6
Cold Weather Cocktails
Hot Cocoa Bar!__$12
A Delicious Mug of Hot Chocolate Spiked with your choice of these: Skrewball Peanut Butter Whiskey, Absolut Vanilla, Mint Mocha Kahlua, Salted Caramel Kahlua, French Vanilla Kahlua, or Dirty Monkey Bannan Peanutbutter Whiskey. Served with dallop of whipped cream and cocoa powder dusting
Hot Bourbon Cider__$12
Hot Apple Cider with Bulleit Bourbon and a cinnastick!
Red Skies At Morning__$15
Empress Rose & Black Carrot Gin floated atop fresh lime and peach puree with soda and rocks. Sailors better take warning!
I'm Oaxacan Here!__$15
Granja Mezcal, Fresh Lime, Crisp Apple Puree, Shooketh, Strained, Served with Kosher Salt rim
The Pearalizer__$12
Absolut Pear, Midori, Apple Cider, Fresh Lemon Juice, Cinnamon Sugar Garnish
Apple Pie Wine 8.3% (served chilled on rocks in 12 oz snifter)...$8....Whole Bottle....$20
AVENUE COCKTAILS
The Espresso Martini Machine!!__$14 [MINT MOCHA]
Its the Machine! Chilled and Nitro Infused, Ketel one Vodka, Kahlua Mint Mocha Coffee Liqueur, Cold Brew... this baby is gonna get the night going, be a nice dessert cocktail, and everything in between!
Blood and Sand__$14
Johnny Walker Red Lable Scotch, Cherry Heering, Sweet Vermouth, Orange Juice, Shooketh and strained.
The 6 O'Clock Sunset__$15
The Empress Gin has a unique indigo color to it that we took inspiration from in this drink. Empress Gin, Lychee, Lemon, Grapefruit and a splash of soda layered together to make this not only a delicious drink, but a beautiful one.
The Allston Mollassacre__$14
"The Boozy ice coffee drink for someone who wants to drink espresso martinis all day and not have a massive tab to deal with." Skyy Cold brew vodka, Irishman Irish Creme, House-brewed iced coffee, House-made Mollasses/Vanilla/Brown Sugar Simple Syrup.
Chasing Daisies__$14
Back by popular demand! Elderflower Liqueur, Ketel One Citroen, and Ginger Beer, served over ice.
The Ryes Up__$15
Bulleit Rye, Sweet Vermouth, Elderflower Liqueur, Cognac, Peychaud and Aromatic bitters shooketh and strained with an orange garnish.
The Comm-Ave Cooler__$14
Ketel One Peach and Orange Blossom Botanicals Vodka, splash of cran and OJ, topped with Prosecco. Sit back and Enjoy the sights of Comm Ave with one of these babies.
Mo-YEET-o! __$15
Mint Infused Bacardi, soda, Sprite, with a lime garnish with your choice of Puree: Blackberry, Prickly Pear, Crisp Apple, Black Cherry, Lychee, Ginger. YEET!!
The Cape Codder__$10
Titos Vodka, Cran, served on the rocks with a lime.
Rat City Negroni__$14
Our spin on the classic Negroni:
Tanqueray Gin, Campari, Antica Formula Vermouth, our house-made honey, coriander and clove simple syrup, orange bitters.
The Spicy Marg__$15
Our classic spicy margarita. House-infused Jalapeno Blanco Tequila, Triple Sec, house-made sour, shookeeth, poured over ice and topped with a orange soda float. This drink really represents the Essence of Avenue drinking ;)
The Grand Marg__$17
Don Julio Blanco, Grand Marnier, Fresh Lime, house-made sour, shooketh and served on the rocks with an orange. Want Kosher salt? Just ask =)
Mocktails/Nonnys
Super Smashberry- Black Cherry Puree, Lemonade, Sprite top__$8
Hot Mess Mocha-tini - Ice Coffee, Leche, Chocolate Syrup, Mollasses, Vanilla, Brown Sugar__$8
Lagunitas 'Hop Fresher Hop Soda__$7.5
Here We Go Hazy IPA__$7.5
Opening for 10AM Brunch Saturdays and Sundays!
Drink Specials
Rotating Top Shelf Whiskey - Monkey Shoulder BATCH 27 Blended Malt Scotch Whiskey__$19 (2 ounce pour)
Rotating Top Shelf Tequila - Coralejo Anejo __2oz pour....$17
Ketel One Martini Special!__ $16
Choose between Lychee, Prickly Pear, or Blackberry
The Allston Happy Meal (Highlife, Lime, Shot of Cazadores Tequila)__$12
The Viking Handshake (Highlife & a shot of Jameson)__$13
Orange Tic-Tac Shot - Jameson Orange+Redbull__$9
Jameson Black Barrel__$10
Good Rum - Afrohead Rum__$12
Camelot Mead! (6oz Wine Glass) 10%__$10 - Light body and deliciously packed with Honey
Dansk Mjod 'Viking Blod' - have a glass of mead! 19% (3oz pour neat or over rocks)__$8
$5 Shot of the week - Santa's Taint! Half Dr.Mcguilicuddys, Half Irish Cream, sublte dusting of nutmeg
$3 Jello Shots (want to know the flavor, ask your server! =P)
Seasonal
Harpoon 'Winter Warmer' 6% (12ozCAN)....$6.5
Sam Adams 'Winter Lager' 4.5% (16oz)....$7.25
Elysian 'Dark of the Moon' 7.5% (12ozBottle)...$7
Elysian 'Punkuccino' 6% (12ozBottle)....$7
Elysian 'Night Owl' 6.7% (16oz Draft$8) (12ozBottle$7)
Left Hand 'Nitro Pumpkin Spiced Latte' 7% (16oz)....$8
Citizens 'Bakers Dozen' 5% (16oz)....$8.5
Apple Pie Wine 8.3% (served chilled on rocks in 12 oz snifter)...$8....Whole Bottle....$20
Easy Drinkin'
Kona 'Big Wave' 4.4% (16oz)....$7.25
Jack's Abby 'Banner City Light Lager' 3.8% (12oz CAN)...$5.25
Shilling Alexander Pilsner 5% (16oz)...$7.25
Coors light (16oz)...$6.5
Stella Artois (16oz)....$7.75
New Belgium 'Fat Tire' 5.2% (16oz)...$7.5
IPA
Toppling Goliath 'Pseudo Sue' 5.8% (16oz)....$9
Lone Pine 'Brightside' 7.1% (16oz) ....$8.5
Voodoo Ranger 'Juicy Haze' 7.5% (16oz)....$8
Beer'd 'Dogs & Boats' 9.1% (12oz)....$8.5
Whalers 'Muse' 7% (12ozCAN)...$7.25
Lagunitas IPA (12ozBottle)....$7.25
Bells 'Two Hearted' 7% (16ozCAN)....$8
Weekend Vibes 'New England IPA' 6.2% (16oz)....$7.5
Long Live 'Sneks' 6.5% (12oz)....$8.5
Harpoon IPA 5.4% (16oz)....$7.5
Wheats/Belgian
Oxbow 'Surf Casting' 4.5% (12ozCAN)...$7.5
Paulaner Hefe-Weisen 5.3% (16oz)....$7.5
Blue Moon 5.4% (16oz)...$8
The Dark Side
Oxbow 'Nightfall' 5% (16oz)....$7.25
Medusa 'Activate' Coffee Porter 6.4% (16ozCAN)...$8.5
Delirium 'Noel' 10% (10oz)....$9.5
21st Amendment 'Fireside Chat' 7.5% (16oz)...$8
Founders KBS [Blueberry] 11.2% (10oz)....$9.5
Guinness 4.2% (20oz)…... $9
Elysian 'Dark of the Moon' 7.5% (12ozBottle)...$7
Cider
Stormalong 'Happy Holidays' 5.4% ...$8
Citizens 'Bakers Dozen' 5% (16oz)....$8.5
Citizens 'Spill The Tea' [Green Tea] 5% (16ozCAN)...$9
Downeast Original Blend 5.4% (16oz)....$8
Downeast Cider Donut 5.4% (12ozCAN)...$8
Sours/Fruits
Mayflower 'Resistance is Fruitile' 6.5% (16oz).....$8.5
Hermit Thrush 'Blueberry Party Jam' 5.9% (16oz)....$8.5
Bentwater 'Limoncello Ketel Sour' 5% (16oz)....$8
Toppling Goliath 'Cherry Fandango' 5% (10oz)....$12
Seltzers! / stuff like that :)
KOM Kombucha - Sunshine State [Mango Key Lime] 5%....$8.5
KOM Kombucha - Mindful Mule [Ginger Lime] 5%....$8.5
Happy Dad Seltzer 5% (12ozCAN) [Grape]....$7.25
Happy Mom Seltzer 5% (12ozCAN) [Razz]....$7.25
Twisted Tea......$7
White Claw Vodka Soda (12oz) Peach....$9
Dad Beer
Narragansett.....$6
High Life.....$4.95
Budweiser.....$6
Corona.....$7.5
Heineken.....$7.5
Bucket Deals (5 count)
Elysian Pumpkin Bucket....$30
Happy Dad Bucket....$33
High Life Bucket.....$22
Budweiser Bucket.....$25.75
Heineken Bucket....$32.5
Corona Bucket.....$32.5
THE RING OF FIRE!!!! (we can send you 3 or 6 shots of fireball with any bucket, "RING OF FIRE!!!" will be shouted and announced as this is brought to your table.
add HALF RING OF FIRE (3xfireball)..... $14
add FULL RING OF FIRE (6xfireball) .....$28
Opening for 10AM Brunch Saturdays and Sundays!