Main content starts here, tab to start navigating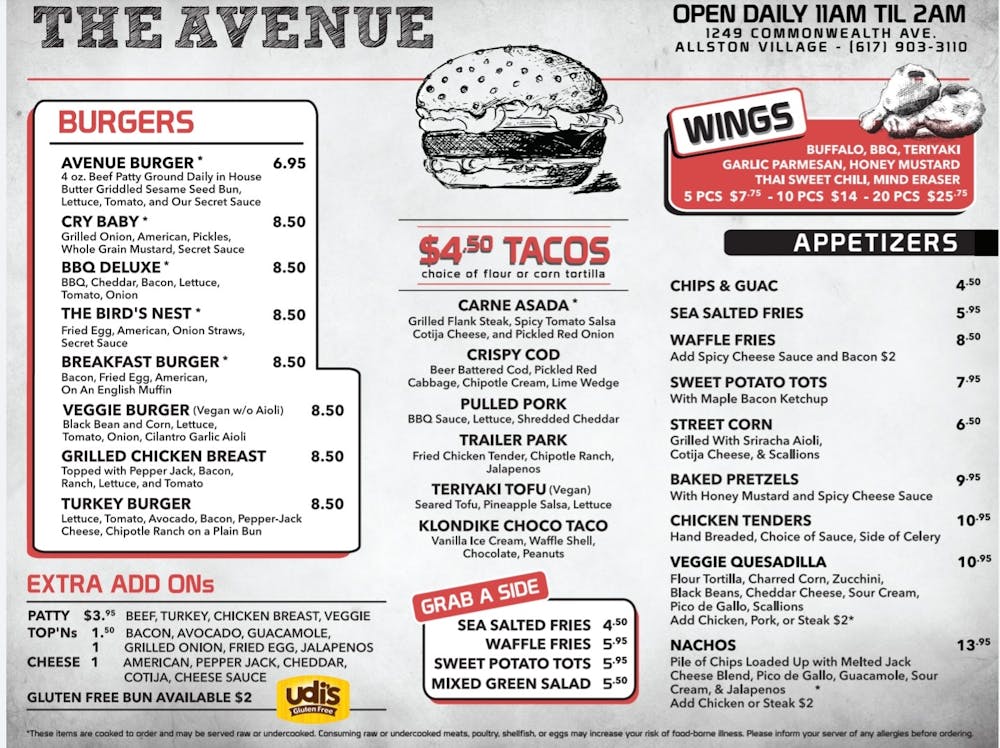 Download PDF
Warm Weather Cocktails
Eddy's Double Deep Summer Tea__$10
Deep Eddy Sweet Tea Vodka, Deep Eddy Lemon Vodka, Splash of Sour, Splash of Simple Syrup, Splash of Sprite. "It's gonna be a good summer!"
Watermelon Sugar Hiiiiiiii__$9.5
Malibu Watermelon, Watermelon Redbull, Watermelon Puree, Club Soda, Served on rocks in a pint Glass.
Oaxacan After Midnight__$13 (pronounced wah-hawk-in)
A sexy smokey cocktail. A generous pour of Union Mezcal, Prickly Pear fruit puree, fresh Lime juice, shooketh and strained into a Kosher Salt Rimmed Glass. Cheers to warm night strolls =)
Mo-YEET-o! __$14
Mint Infused Bacardi, soda, Sprite, with a lime garnish with your choice of Puree: Blackberry, Prickly Pear, Crisp Apple, Black Cherry, Lychee, Ginger. YEET!!
Rye Me to the Moon__$13
Bulleit Rye Whiskey, Ginger infused simple syrup, fresh lime juice. Shooketh on ice and strained for your sippin pleasure.
AVENUE COCKTAILS
The 6 O'Clock Sunset__$15
The Empress Gin has a unique indigo color to it that we took inspiration from in this drink. Empress Gin, Lychee, Lemon, Grapefruit and a splash of soda layered together to make this not only a delicious drink, but a beautiful one.
The Allston Mollassacre__$15
"The Boozy ice coffee drink for someone who wants to drink espresso martinis all day and not have a massive tab to deal with." Absolut Vodka, Borghetti Espresso Liqueur, Irishman Irish Creme, House-brewed iced coffee, House-made Mollasses/Vanilla/Brown Sugar Simple Syrup.
Chasing Daisies__$14
Back by popular demand! Elderflower Liqueur, Ketel One Citroen, and Ginger Beer, served over ice.
The Comm-Ave Cooler__$14
Ketel One Peach and Orange Blossom Botanicals Vodka, splash of cran and OJ, topped with Prosecco. Sit back and Enjoy the sights of Comm Ave with one of these babies.
'El Siete' Paloma__$16
Siete Leguas Reposado Tequila, grapefruit juice, soda, served on the rocks with a lime.
The Cape Codder__$10
Titos Vodka, Cran, served on the rocks with a lime.
Rat City Negroni__$14
Our spin on the classic Negroni:
Tanqueray Gin, Campari, Antica Formula Vermouth, our house-made honey, coriander and clove simple syrup, ginger bitters.
The Spicy Marg__$15
Our classic spicy margarita. House-infused Jalapeno Blanco Tequila, Triple Sec, house-made sour, shookeeth, poured over ice and topped with a orange soda float. This drink really represents the Essence of Avenue drinking ;)
The Grand Marg__$17
Don Julio Blanco, Grand Marnier, Fresh Lime, house-made sour, shooketh and served on the rocks with an orange. Want Kosher salt? Just ask =)
The Espresso Martini__$16
Ketel One Vodka, Don Cici's Espresso Liquor, Irishman Irish Cream, dollop of Whipped cream, shooketh on ice, strained, and topped with whipped cream. Frothy. Delicious. Classy. Yaasss Kweeen
The Ryes Up__$15
Bulleit Rye, Sweet Vermouth, Elderflower Liqueur, Cognac, Peychaud and Aromatic bitters shooketh and strained with an orange garnish.
Opening for 9AM Breakfast Saturdays and Sundays!
Drink Specials
Rotating Top Shelf Whiskey - Wild Turkey 'Kentucky Spirit' [Single Barrel Aged, 101 Proof]__$19 (2 ounce pour)
The Viking Handshake (Highlife & a shot of Jameson)__$13
Orange Tic-Tac Shot - Jameson Orange+Redbull__$9
Jamo Cold Brew Ice Coffee__$10 (ice coffee black with a shot of Jamo Cold Brew)
Jameson Black Barrel__$9
Camelot Mead! (6oz Wine Glass) 10% - Light body and deliciously packed with Honey
Dansk Mjod 'Viking Blod' - have a glass of mead! 19% (3oz pour neat or over rocks)__$8
$5 Shot of the week - Electric Lemonade! - Limoncello, House Vodka, Blue Curacao, Raspberry Hard Seltzer... Zap!
$3 Jello Shots (want to know the flavor, ask your server! =P)
Easy Drinkin'
Mayflower 'Krispy Business' 4.5% (16oz)...$7.5
Modelo 4.4% (16oz).....$7
Bud Light (16oz)...$6.5
Stella Artois (16oz)....$7.75
New Belgium 'Fat Tire' 5.2% (16oz)...$7.5
Bone Up 'Patio Weather' 4.9% (16oz)...$8
IPA
Rockport Brewing Co 'Jetty Juice' 6.3% (16ozCAN)....$8.5
Greater Good 'Pulp Daddy' 8% (12oz)....$9
Bentwater 'Astral Bash' 6.8% (16oz)...$8.5
Beer'd 'Dogs and Boats' 9.1% (12oz)...$8.5
Elysian 'Space Dust' 8.2% (16oz)....$8.5
Toppling Goliath 'Double Dry Hopped Pseudo Sue' 5.8% (16oz)...$9.25
Exhibit A 'Cat's Meow' 6.5% (16oz)...$8.5
Stoneface 'Half Clip Session' 4.5% (16ozCAN)...$8.5
Amherst Brewing 'Jess' 7% (16ozCAN)...$8.5
Three Floyds 'Dreadnaught' 9.4% (12oz)....$8.5
Harpoon IPA 5.4% (16oz)....$7.25
Wheats/Belgian
Paulaner Hefe-Weisen 5.3% (16oz)....$7.5
Golden Road 'Mango Cart' 4% (16oz)...$8
Blue Moon 5.4% (16oz)....$8
Victory 'Golden Monkey' [Belgian Style Ale] 9.5% (12oz).....$9.25
The Dark Side
Jack's Abby 'Shipping out of Boston' [Amber] 5.8% (16ozCAN)...$7.5
Founders 'French Toast Bastard' 11.1% [Fantastic] 10oz...$12
Mast Landing 'Gunners Daughter' [Peanut Butter] 16oz....$8
Smuttynose 'Old Brown Dog' 6.5% (16oz)....$7.5
Guinness 4.2% (20oz)…... $9
Cider
Citizens Cider 'Dirty Mayor'[Ginger] 5% (16oz)....$8
Downeast Original Blend 5.4% (16oz)....$8
Downeast Peach Mango 5.3% (12ozCAN)....$8
Downeast Blue Slushie 5% (12ozCAN)...$8
Downeast Red Slushie 5% (12ozCAN)...$8
Stormalong 'Tropical Voyage' [Pineapple Guava]....$8.5
Sours/Fruits
Lone Pine 'Slush Punch 8% (16ozCAN)....$9.5
Greater Good '55 Funk Prickly Pear Marg' 8% (16ozCAN)....$10
Candy Mountain Charlie Cherry 6% (12oz)....$8
Exhibit A 'Panda Punch' 6.1% [Made with bits of real Panda, so you know its good] (16oz)...$8.5
Hermit Thrush 'Party Jam Blueberry' 5.9% (12oz)...$10
Toppling Goliath 'Cherry Fandango' 5% (10oz)....$12
Mighty Squirrel 'Kiwi Razz Sourface' 5% (16oz)....$8.5
Seltzers! / stuff like that :)
Happy Dad Seltzer 5% (12ozCan) [Grape]....$7.25
Happy Mom Seltzer 5% (12ozCAN) [Razz]....$7.25
Twisted Tea......$7
Downeast Tequila Soda (12oz) Grapefruit, Lime...$9
Downeast Vodka Soda (12oz) Black Cherry, Pineapple...$9
White Claw Vodka Soda:Wild Cherry, Peach....$9
Lagunitas 'Hop Fresher' (non Alcoholic)....$7.5
Dad Beer
Narragansett.....$6
High Life.....$4.95
Budweiser.....$6
Corona.....$7.5
Heineken.....$7.5
Bucket Deals (5 count)
Happy Dad Bucket....$33
White Claw Vodka Soda Bucket....$35
High Life Bucket.....$22
Budweiser Bucket.....$25.75
Heineken Bucket....$32.5
Corona Bucket.....$32.5
High Noon Bucket.....$35
THE RING OF FIRE!!!! (we can send you 3 or 6 shots of fireball with any bucket, "RING OF FIRE!!!" will be shouted and announced as this is brought to your table.
add HALF RING OF FIRE (3xfireball)..... $14
add FULL RING OF FIRE (6xfireball) .....$28
Opening for 9AM Breakfast Saturdays and Sundays!