Main content starts here, tab to start navigating
Menus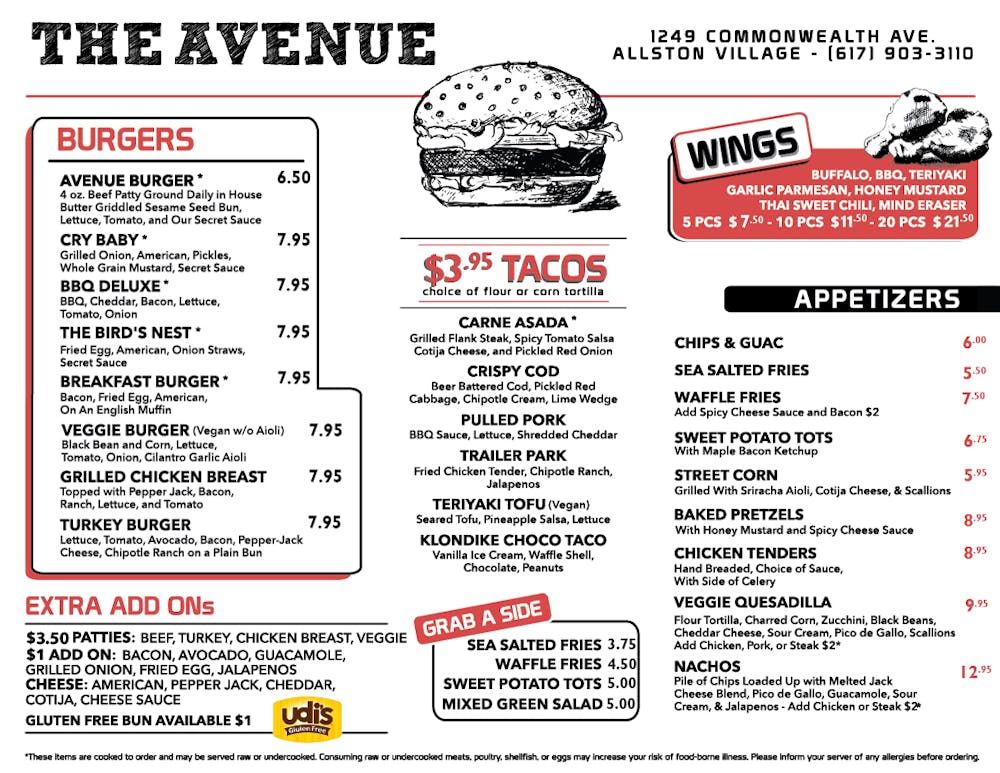 Download PDF
Due to city regulations tables are limited to 90 minutes. Thanks for understanding.
Food special!!! The Chili - $8
Avenue 'OG' Cocktails
The Cape Codder, $8.50
Titos Vodka, Cran, Rocks, Lime.
The Comm-Ave Cooler, $12
Ketel One Peach and Orange Blossom Botanicals Vodka, Prosecco, splash of cran and OJ. Sit back and Enjoy the sights of Comm Ave with one of these babies.
Rat City Negroni, $12.25
Our spin on a classic:
Tanqueray Gin, Campari, Antica Formula Vermouth, our house-made honey, coriander and clove simple syrup, ginger bitters.
The Spicy Marge ....$13
Our classic spicy margarita. House infused jalapeno blanco tequila, triple sec, house made sour, shookeeth, poured over ice and topped with a orange soda float. This drink really represents the Essence of Avenue drinking ;)
The Grand Marge....$15
Don Julio Blanco, Grand Marnier, Fresh Lime, House made Sour, Orange Garnish, shooketh on ice and served on the rocks. Want Kosher salt? Just ask =)
Cold Weather Cocktails
'The Espresso Martini' - Ketel One Vodka, Kahlua Coffee Liquor, Frangelico, splash of Whipped cream, shooketh on ice, strained, and topped with cocoa. Frothy. Delicious. Classy. Yaaasss Kweeen -$15
'The Cold Fashioned' ........$12
Makers Mark, Orange bitters, Aztec Chocolate bitters, house made brown sugar, vanilla and molasses maple simple syrup. Stirred on the rocks garnished w/ a cinnamon stick
'Fighter Cider' ......$9
Hot Mulled Cider with your choice of Jim Beam or Fireball
Spiked Hot Cocoa! .......$9
Rum and Cocoa (Sailor Jerrys)
Peppermint Mocha (Dr. Mcgillicuddys )
Amaretto Cocoa (Disarono)
Irish Creamy Cocoa (Bailey's)
Shot of the week - *Click Click* - Look at your server, make a fist, hold out your thumb and pinky, make a 'click-click' noise whilst slightly shaking your hand, and wink. (thats the name of the shot and how you order it) ingredients- Absolut Mandarin, Deep Eddy Grapefruit, Lime and Cran Juice......$5 ;)
Draft Lager
Notch Brewing Zwickel Lager 4.5% (16oz) ....$6
Pacifico Mexican Lager 4.4% (16oz) ....$6.5
Bud Light 4.2% (16oz) ....$5.50
Jacks Abby House Lager 5.2% (16oz) ......$6.5
Draft IPA
Lord Hobo Boomsauce 7.8% (16oz) ....$8.50
Elysian Space Dust 8.2% (16oz) ....$8
Raw Power Small IPA 4.5% (16oz) ....$6.5
Lagunitas IPA 6.2% (16oz) ..... $7.50
Zero Gravity Madonna IIPA 8.9% (12oz) .... $9
Mighty Squirrel Cloud Candy 6.5% (16oz)....$8
Harpoon Long Thaw IPA 6.2% (16oz) ....$7
Harpoon IPA 6% (16oz) ....$7
Lone Pine Brightside IPA 7.1% (16oz).....$8
Draft Wheats
Blue Moon 5.4% (16oz) .... $7.50
Weinstephan Hefeweissbier 5.4% (16oz) .....$8
Draft Stouts
Big Black Voodoo Daddy 12% (10oz) .....$11
Founders KBS Maple Makinac Fudge Stout 11% (10oz)... $11.5
Guinness 4.2% (20oz)…... $8
O'haras Irish Nitro Stout 4.3% (16oz)....$7.5
Cider
Stormalong Red Skies at Night 5.8% (16oz) ....$7
Downeast Cider 5.1% (16oz)..... $7
Sours
Mighty Squirrel 'NanaLand' 7.1% (16oz Draft) .... $8
Victory Sour Monkey 9.5% (12oz draft) .....$9.5
Almanac "Mapache" Sour 6.2% (12oz draft)..........$8.50
Pontoon Brewing 'Im on a Float' (16oz can)....$8
Lone Pine Blackberry (16oz can).....$9
Captain Lawrence 'Tropic-gose' (16oz can)......$8.50
Dad Beer
High Life..... $4.25 (Get a bucket of 5 for $20!)
Exhibit 'A' Goody Two Shoes......$8.50
Budweiser ..... $5.50
Corona .... $6.50 (Get a bucket of 5 for $30!)
OTHER :)
Twisted Tea ....$5.5
Truly Hard Iced Tea: Peach Iced Tea, Lemon Iced Tea, Strawberry Iced Tea, Raspberry Iced Tea......$6
Black Cherry White Claw ....$6.50
Coors Hard Seltzer- Mango or Grapefruit....$6
$3 "Orangies 4.0" Jello Shots Absolut Peach, Deep Eddy Grapefruit, orange Jello ;)