Main content starts here, tab to start navigating
Menus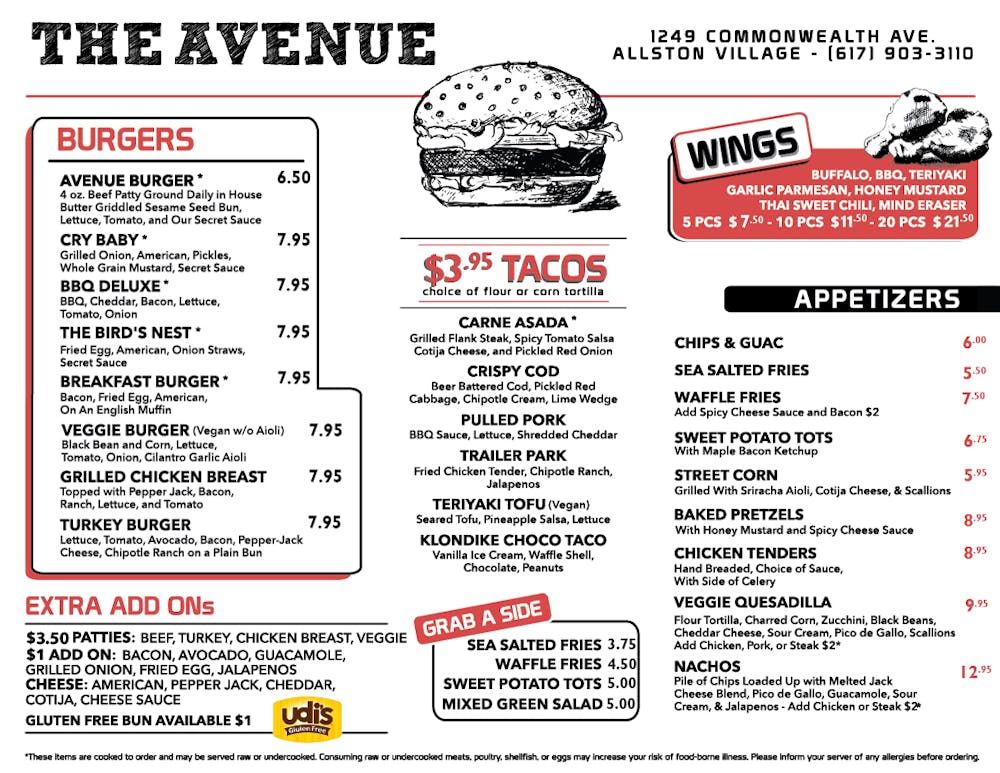 Download PDF
Due to city regulations tables are limited to 90 minutes. Thanks for understanding.
Warm Weather Cocktails
Strawberry Marge....$12
Here by popular demand, Strawberry Puree, Silver Tequila, triple sec, house made sour, Shooketh on ice and served on the rocks with a lime.
The Comm-Ave Cooler.... $12
Ketel One Peach and Orange Blossom Botanicals Vodka, Prosecco, splash of cran and OJ. Sit back and Enjoy the sights of Comm Ave with one of these babies.
Chase-ing Daiseys.... $12
Ketel Citroen, 'Chase' English Elderflower liqueur, Goslings Ginger beer, Lime, served on the rocks in a Mule Cup. Flowers will be blooming in no time, the Elderflower comes in at the very end just like in this mule. Wow that's subtle!
Eddy's Deep & Wild Sweet Tea .....$11
A blend of Absolut Wild Tea Vodka, House made lemonade, splash of coke. Get a lil wild, get a lil deep, thank Eddy for the experience ;)
The Iced Allston Mollassacre! ......$14
Wheatley Vodka, Creme De Cacao, Iced Coffee, House made Vanilla/Brown sugar/Molasses Simple Syrup, Kosher Salt, Shooketh and served over ice in a pint glass.
'El Siete' Paloma......$14
Siete Leguas Reposado Tequila, Grapefruit juice, Soda, served on the rocks with a lime.
Avenue 'OG' Cocktails
The Cape Codder, $8.50
Titos Vodka, Cran, Rocks, Lime.
Jack and Coke .... $8
Jack Daniels, Coke, Rocks, Lime
Rat City Negroni, $12.25
Our spin on a classic:
Tanqueray Gin, Campari, Antica Formula Vermouth, our house-made honey, coriander and clove simple syrup, ginger bitters.
The Spicy Marge ....$13
Our classic spicy margarita. House infused jalapeno blanco tequila, triple sec, house made sour, shookeeth, poured over ice and topped with a orange soda float. This drink really represents the Essence of Avenue drinking ;)
The Grand Marge....$15
Don Julio Blanco, Grand Marnier, Fresh Lime, House made Sour, Orange Garnish, shooketh on ice and served on the rocks. Want Kosher salt? Just ask =)
'The Espresso Martini'...$15
Ketel One Vodka, Kahlua Coffee Liquor, Irishman Irish Cream, splash of Whipped cream, shooketh on ice, strained, and topped with cocoa. Frothy. Delicious. Classy. Yaaasss Kweeen
'The Ryes Up' ...$12
Bulleit Rye, Sweet Vermouth, Elderflower, Cognac, Peychauds and Aromatic bitters shooketh and strained and served with a lemon twist.
Drink Specials
Shot of the week - Liquid Cocaine (Goldschlager, Jager) ... $5
Shot of Fireball ............$5!
$3 Jello Shots - cranberry deep eddy, orange, Lemon Jello, sprite =P
Lager
Jacks Abby House Lager 5.2% (16oz) .....$7
Bud Light 4.2% (16oz) ....$5.5
Stella Artois 5.2% (16oz) .....$6.5
Stone Buenaveza (12oz can) .... $6.5
IPA
Elysian 'Space Dust' 8.1% (16oz).....$8
Lord Hobo Boomsauce 7.8% (16oz)....$8.5
Lone Pine Brightside 7.1% (16oz).....$7.5
Mighty Squirrel Cloud Candy (16oz).....$8
Toppling Goliath King Sue 7.8% (12oz).....$8.5
Bentwater Double Thunderfunk 8.5% (16oz) .....$8.5
Exhibit 'A' Hair Raiser 8% (12oz) .... $9
Notch Raw Power 4.5% (16oz)......$7
Harpoon IPA 6% (16oz) ....$7
Collective Arts Surround Sound (16oz) CAN .....$8.5
Collective Arts IPA No16 (16oz can).......$8
Wheats/Ales
Hell or High Watermelon 4.9% (16oz)....$7
Blue Moon 5.4% (16oz) .... $7.50
Golden Road Mango Cart 4% (16oz draft) .....$6.5
Draft Stouts
El Zacaton 12% (10oz) ......$12
Guinness 4.2% (20oz)…... $8
O'haras Irish Nitro Stout 4.3% (16oz)....$7.5
Boulevard 'Rye on Rye Maple' 12% (10oz)....$11
Cider
Blakes Strawberry Lemonade Cider 6.5% (16oz) ....$8
Bantam Rojo 5.5% (16oz) ....$7
Downeast Cider 5.1% (16oz)..... $7
Downeast Blackberry 5.1% (12oz CAN) ....$6.5
Downeast Pineapple 5.1% (12ozCAN) ....$6.5
Sours/fruits
Harpoon Maine Blueberry 4.8% (16oz) ....$7
Toppling Goliath 'Dragon Fandango' 4.2% (10oz)..... $12
Springdale 'Co-Pilot Sangria' 4.5% (16oz)......$8
Mighty Squirrel 'Raspberry Kiwi Sour Face' 5% (16oz).....$8
Urban Artifact 'Spyglass' 4.5% (16oz).....$8.5
Collective Arts 'Guava Gose' (12oz CAN).....$7.5
Zero Gravity 'Frankie' 5.1% (16oz)...$8
Seltzers! / stuff like that :)
Founders Mas Agave 4.5% (16oz Draft) ....$7
Twisted Tea ....$5.5
Black Cherry White Claw ....$6.50
Mamitas Hard Tequila Seltzers - Mango, ....$6.50
Truly hard tea seltzer - Strawberry Tea, Peach Tea, Lemon Tea, Raspberry Tea ....$6.5
Bud Light 'Out of the Office' Hard Seltzer - Classic Lime Margarita, Mango Mai Tai, Watermelon Mojito, ....... $7
Dad Beer
Shiner Bock ....$5
High Life..... $4.25 (Get a bucket of 5 for $20!)
Budweiser ..... $5.50
Corona .... $6.50 (Get a bucket of 5 for $30!)