Main content starts here, tab to start navigating
Menus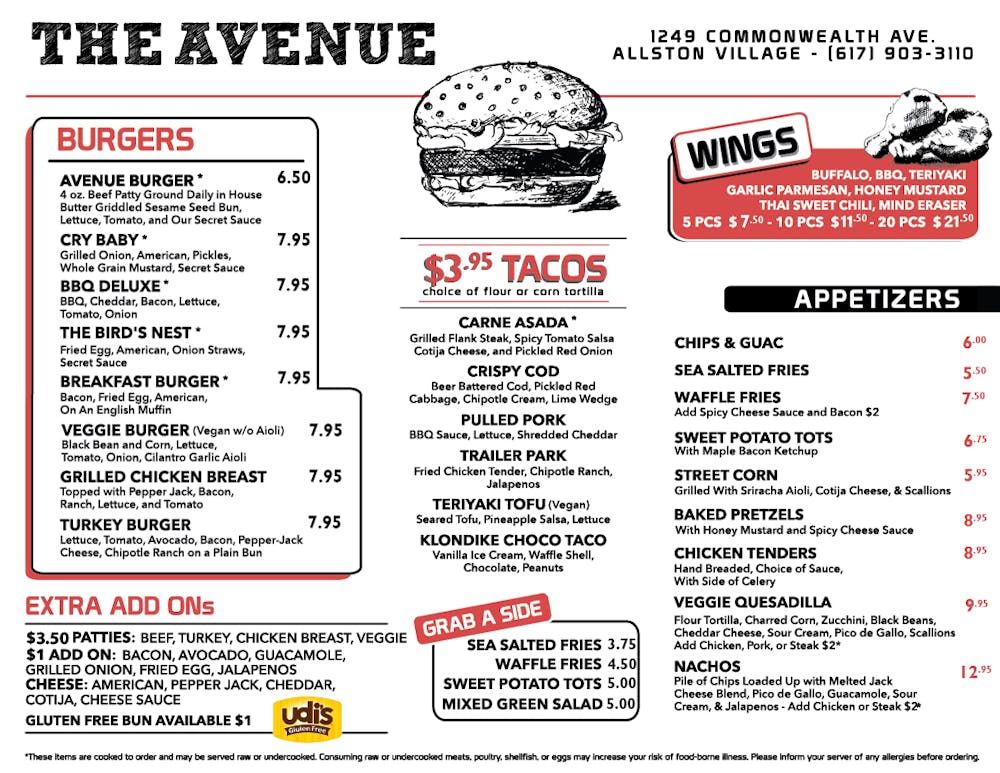 Download PDF
Flannels are in y'all! $28 ask your server!
Trucker Hats coming soon!
Warm Weather Cocktails
'The Mermaid Mai Tai!' .....$15
RumHaven Coconut Water Infused Rum, Captain Morgan Spiced Rum, Orgeat, Blue Curacao, Orange Juice, Pineapple Juice, Shooketh on ice, Poured over fresh ice into the Sexiest Mermaid Tiki Cup you've ever seen and Topped with a Watermelon Red Bull Float. Float on Mermaids! ;) (Plz don't steal the cups!)
'Frozen Pina Colada' .....$13 ($3 for extra dark rum float!)
Rum, Rum, Rum, Pineapple Juice, Coco Lopez, Rum. Frozen and spun and ready to pour for your hot day pleasure! Go for the Extra float, you know you wanna ;)
'THE FROZE` ......$13 ($3 for extra Smirnoff Pink Lemonade)
Cavit Rose`, Limoncello, and Smirnoff NEW Pink Lemonade flavor vodka. We've done some froze`s here before but this one is really something.
'Eddy's Double Deep Sweet Tea' ......$12
Deep Eddy's Sweet Tea, Deep Eddy's Lemon, Lemonade, Ice, Deliciousness.
'Passionfruit Mo-YEET-O' ......$13
Mint Infused Bacardi, Passionfruit Puree, Soda, Sprite, Lime, with a mint garnish. Sit back take a seat, no mas 6 feet, take a sip say YEET!!
Strawberry Marge....$12
Here by popular demand, Strawberry Puree, Silver Tequila, triple sec, house made sour, Shooketh on ice and served on the rocks with a lime.
The Comm-Ave Cooler.... $12
Ketel One Peach and Orange Blossom Botanicals Vodka, Prosecco, splash of cran and OJ. Sit back and Enjoy the sights of Comm Ave with one of these babies.
Chase-ing Daiseys.... $12
Ketel Citroen, 'Chase' English Elderflower liqueur, Goslings Ginger beer, Lime, served on the rocks in a Mule Cup. Flowers will be blooming in no time, the Elderflower comes in at the very end just like in this mule. Wow that's subtle!
The Iced Allston Mollassacre! ......$14
Wheatley Vodka, Creme De Cacao, Iced Coffee, House made Vanilla/Brown sugar/Molasses Simple Syrup, Kosher Salt, Shooketh and served over ice in a pint glass.
'El Siete' Paloma......$14
Siete Leguas Anejo Tequila, Grapefruit juice, Soda, served on the rocks with a lime.
Avenue 'OG' Cocktails
The Cape Codder, $8.50
Titos Vodka, Cran, Rocks, Lime.
7&7 .....$7.25
Seagram's 7 Whiskey, Sprite, Rocks, Lime
Jack and Coke .... $8
Jack Daniels, Coke, Rocks, Lime
Rat City Negroni, $12.25
Our spin on a classic:
Tanqueray Gin, Campari, Antica Formula Vermouth, our house-made honey, coriander and clove simple syrup, ginger bitters.
The Spicy Marge ....$13
Our classic spicy margarita. House infused jalapeno blanco tequila, triple sec, house made sour, shookeeth, poured over ice and topped with a orange soda float. This drink really represents the Essence of Avenue drinking ;)
The Grand Marge....$15
Don Julio Blanco, Grand Marnier, Fresh Lime, House made Sour, Orange Garnish, shooketh on ice and served on the rocks. Want Kosher salt? Just ask =)
'The Espresso Martini'...$15
Ketel One Vodka, Kahlua Coffee Liquor, Irishman Irish Cream, splash of Whipped cream, shooketh on ice, strained, and topped with cocoa. Frothy. Delicious. Classy. Yaaasss Kweeen
'The Ryes Up' ...$12
Bulleit Rye, Sweet Vermouth, Elderflower, Cognac, Peychauds and Aromatic bitters shooketh and strained and served with a lemon twist.
Drink Specials
The Viking Handshake - Highlife and a shot of Bulleit.....$12
Shot of the week $5 - 'Yeah Mate! Right On!' (Seagrams 7 Whiskey batched with a blend of Vizzy Lemonade. Think Whiskey lemonade with a fruity kick.)
Shot of Fireball ............$5!
$3 Jello Shots - flavor of the week, ask your server! =P
Lager
Stella 4.6% (16oz)....$7
Zero Gravity 'Green State Lager' 5% (16oz) .....$7
Pacifico Mexican Lager 4.4% (16oz).....$6.5
Bud Light Draft (16oz)...$5.5
Fat Tire 5.2% (16oz).....$7
Bud Light Lime (12oz) CAN...$6
IPA
Duclaw 'Getaway Message' 7.6% (16ozCAN)...$8.5
Sloop 'Barbaric Weapons' 8% (12oz)....$8.5
Kona Golden Cliff Island IPA 7.2% (16oz).....$8
Elysian Space Dust 8.2% (16oz)....$8
Elysian Super Fuzz 5.4% (16ozCAN)....$8
Grimm 'Lumen' 6.4% ....(12oz)....$9
New Belgium 'Voodoo Ranger Juicy Haze' 7.5% (16oz)....$8
Toppling Goliath 'King Sue' 7.8% (12oz)....$8.5
Lone Pine 'Brightside' 7.1% (16oz).....$8
Mighty Squirrel Cloud Candy 6.5% (16oz).....$8
Notch Raw Power 4.5% (16oz)......$7
Harpoon IPA 6% (16oz) ....$7
Wheats/Ales
Hell or High Watermelon 4.9% (16oz)....$7
Blue Moon Light Sky Light Citrus Wheat 4% (12oz CAN) ....$5.5
Golden Road Mango Cart 4% (16oz draft) .....$6.5
Weinstephan Hefeweissebier 5.8% (16oz)....$7
Draft Stouts/Strong Ales
Left Hand Nitro Milk Stout 6% (16oz) ....$7
Guinness 4.2% (20oz)…... $8
Lexington Kentucky Bourbon Barrel Ale 8.19% (12oz)...$7.5
Victory Golden Monkey 9.5% (12oz).....$8.5
Cider
Downeast Cider 5.2% (16oz).....$7
Blakes Blueberry Lemonade 6.5% (16oz)....$8
Sours/fruits
Duclaw 'Unicorn Farts' 5.5% (16oz) .....(this beer contains an edible shimmer) ....$8.5
Springdale 'Marge Party' Margarita Gose 5% (16ozCAN) ....$8
Mikkeller Passion Pool Gose 5% (16oz) ....$8
Toppling Goliath 'Pineapple Fandango' (10oz).....$12
Mighty Squirrel 'Strawberry Sour Face' 7% (16oz).....$8
Urban Artifact 'Spyglass' 4.5% (16oz).....$8.5
Exhibit 'A' - All The Barrys Ketel Sour 4.3% (16oz)....$8
Seltzers! / stuff like that :)
New Belgium 'Fruit Smash' Pink Lemonade, Berry Blast, or Tropical Punch....$6.5
Twisted Tea ....$5.5
Black Cherry White Claw ....$6.5
Bud Light 'Retro Summer Series' - Blue Raspberry, Summer Ice, or Cherry Limeade.....$6.5
High Noon Peach or Watermelon....$7
Truly Punch Tropical, Fruit, Berry, or Citrus.....$6.5
Dad Beer
High Life ..... $4.75
Budweiser ..... $5.5
Corona .... $6.5
Shiner Bock....$6
Heineken .....$6.5
Bucket Deals
Highlife Bucket .....$20
Bud Bucket......$24
Rando Truly Bucket ....$30
Rando Bud Light Retro Bucket....$30
Corona Bucket..... $30
Heineken Bucket....$30
INTRODUCING THE RING OF FIRE!!!! (we can send you 3 or 6 shots of fireball with any bucket, "RING OF FIRE!!!" will be shouted and announced as this is brought to your table.
add HALF RING OF FIRE (3xfireball)..... $14
add FULL RING OF FIRE (6xfireball) .....$28