Main content starts here, tab to start navigating
Menus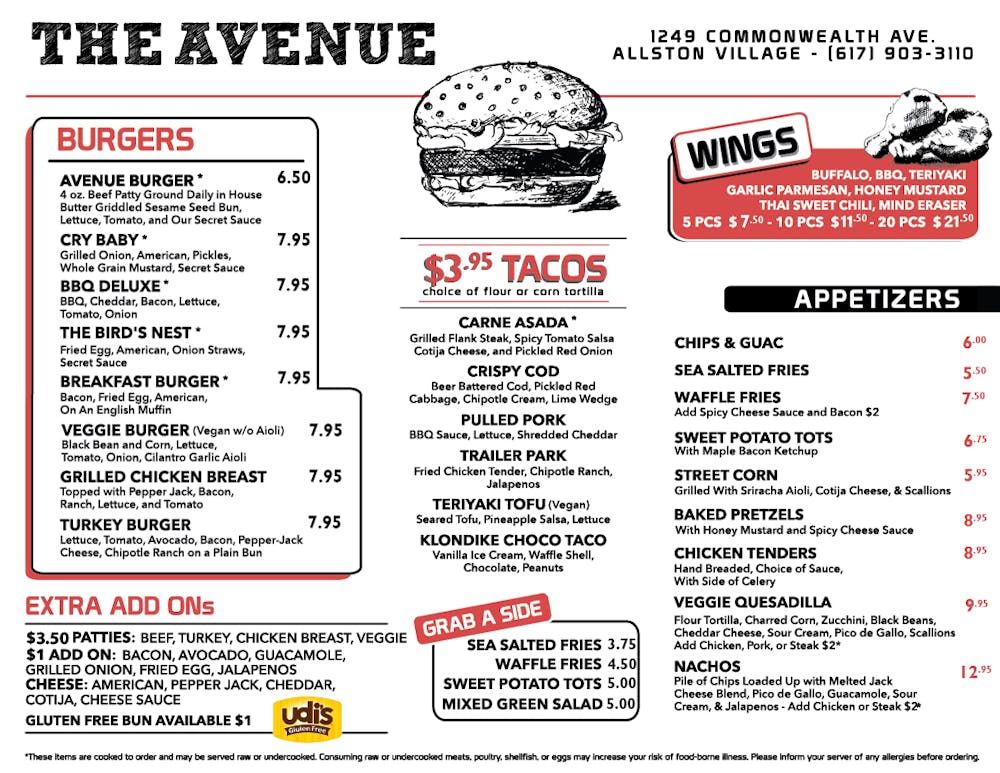 Download PDF
*These items are cooked to order and may be served raw or undercooked. Consuming raw or undercooked meats, poultry, shellfish, or eggs may increase your risk of food-borne illness. Please inform your server of any allergies before ordering.
*Please understand that we have a limited capacity due to state guidelines. If a server tells you your time is up its not that we don't love you all, its that we want to make sure that everyone one our wait list has a chance to get seated in a timely manner. If its been over 90 minutes, we might ask you for the table. Thanks for understanding!
Grilled Cheese and Tomato Bisque Special - $8!
Avenue 'OG' Cocktails
The Cape Codder, $8.50
Titos Vodka, Cran, Rocks, Lime.
The Comm-Ave Cooler, $12
Ketel One Peach and Orange Blossom Vodka, Prosecco, splash of cran and OJ. Sit back and Enjoy the sights of Comm Ave with one of these babies.
Rat City Negroni, $12.25
Our spin on a classic:
Tanqueray Gin, Campari, Antica Formula Vermouth, our house-made honey, coriander and clove simple syrup, ginger bitters.
The Spicy Marge ....$13
Our classic spicy margarita. Fresh muddled jalapeno, El Jimador jalapeno infused tequila, triple sec, house made sour, shookeeth, poured over ice and topped with a blood orange float. This drink really represents the Essence of Avenue drinking ;)
The Grand Marge....$15
Don Julio Blanco, Grand Marnier, Fresh Lime, House made Sour, Orange Garnish, shooketh on ice and served on the rocks. Want Kosher salt? Just ask =)
Cold Weather Cocktails
'The Espresso Martini' - Ketel One Vodka, Kahlua Coffee Liquor, Godiva Chocolate Liquor, splash of Whipped cream, shooketh on ice, strained, and topped with cocoa. Frothy. Delicious. Classy. Yaaasss Kweeen -$15
"The Rye's Up" - Bulleit Rye, Sweet Vermouth, St.Germain Elderflower, 1 dash aromatic bitters, 1 dash Peychaud's Bitters, splash of cognac - $12
'The Jack Frosty'....$12
Absolut Vodka, Pineapple Juice, Coconut Milk, Blue Curacao, served on the rocks with a dallop of whipped cream.
'Sugarplum Mule' ......$12
Liberator Gin, Plum Seasonal Red Bull, Ginger beer, Yum!
'The Cold Fashioned' ........$12
Makers Mark, Orange bitters, Aztec Chocolate bitters, house made brown sugar, vanilla and molasses maple simple syrup. Stirred on the rocks garnished w/ a cinnamon stick
'Fighter Cider' ......$9
Hot Mulled Cider with your choice of Jim Beam or Fireball
Spiked Hot Cocoa! .......$9
Rum and Cocoa (Sailor Jerrys)
Peppermint Mocha (Dr. Mcgillicuddys )
Amaretto Cocoa (Disarono)
Irish Creamy Cocoa (Bailey's)
Double Chocolate Cocoa (Godiva Chocolate Liquer)
Shot of the week - "New Year, New Yeet" Godiva Chocolate Liquer and Stoli Chocolate Raspberry Vodka.........$5!
Draft Beer
Founders KBS Maple Makinac Fudge Stout 11% (10oz)... $11.50
Stormalong Happy Holidays 5.2% (12oz) ...$7.50
Captain Lawrence Citra Dreams 7% (16oz) ...$7.50
Jack's Abby House Lager 5.2% (16oz)....$6.50
Harpoon IPA 6% (16oz) ... $7
Weinstephan Hefe weissbier 5.4% (16oz) .....$8
Blue Moon 5.4% (16oz) ........$7.50
Downeast Cider 5.1% (16oz)..... $7
Guinness 4.2% (16oz)…... $7.50
Sour Cans
Lone Pine Blueberry Sparkler (Sour) .....$8
Jack's Abby Cranberry Berliner Weiss (Sour) .....$8
Pontoon Brewing 'Im on a Float' (Sour)....$8
Dad Beer
Michelob Ultra Pure Gold (85 cals) .....$4
High Life..... $4.25 (Get a bucket of 5 for $20!)
Exhibit 'A' Goody Two Shoes......$8.50
Budweiser ..... $5.50
Coors Banquet ....$4.50
Miller Lite.....$4.50
Other
Corona .... $6.50 (Get a bucket of 5 for $30!)
White Claw Black Cherry or Mango....$6.50
$3 "SPRITES" Jello Shots Absolut Lime, Absolut Citroen, Lemon Jello ;)