Main content starts here, tab to start navigating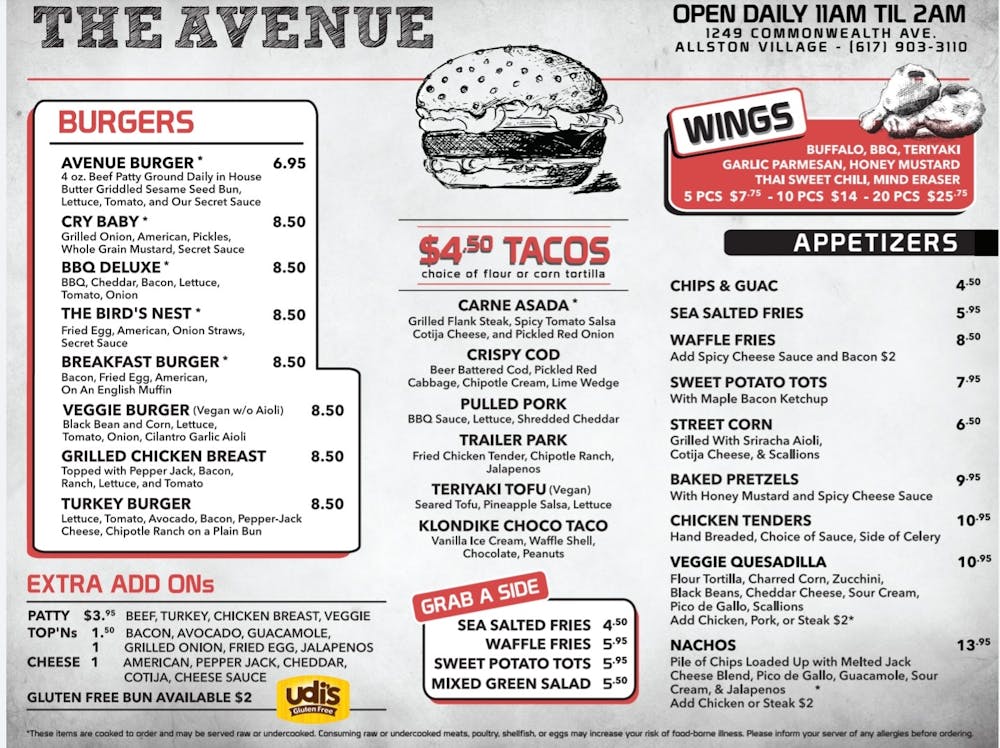 Download PDF
Frozen Drinks!
The Pina Collada__$14
(Captain Coconut Rum, House Rum, Coco Lopez, Pineapple Juice)
The FroZay__$14
(Smirnoff Pink Lemonade, Limocello, Rose Wine, Sprite)
AVENUE COCKTAILS
The Allston Mollassacre__$13.5
"The Boozy ice coffee drink for someone who wants to drink espresso martinis all day and not have a massive tab to deal with." WHEATLEY Vodka, Borghetti Espresso Liqueur, Irishman Irish Creme, House-brewed iced coffee, House-made Mollasses/Vanilla/Brown Sugar Simple Syrup.
The OAXACA SHAME__$13 (pronounced wah-haka-shame)
A sexy smokey cocktail. A generous pour of Union Mezcal, Lychee fruit puree, fresh Lime juice, shooketh and strained into a Kosher Salt Rimmed Glass. Warm weather is here finally! Screw the uber, take a walk ;)
The Mermaid Mai Tai__$15
Rumhaven Coconut Rum, Captain Spiced Rum, Orgeat, Pineapple Juice, Blue Curacao, topped with a Watermelon Redbull float.
The Bubbly Marg!__$14
Patron Tequila, fresh Lime juice, Simple Syrup, topped with Prosecco
Chasing Daisies__$13
Back by popular demand! Elderflower Liqueur, Ketel One Citroen, and Ginger Beer, served over ice.
Blackberry Mo-YEET-O __$14
Mint Infused Bacardi, Blackberry Puree, soda, Sprite, with a lime garnish. Sit back take a seat, no mas 6 feet, take a sip say YEET!!
The Comm-Ave Cooler__$13
Ketel One Peach and Orange Blossom Botanicals Vodka, splash of cran and OJ, topped with Prosecco. Sit back and Enjoy the sights of Comm Ave with one of these babies.
'El Siete' Paloma__$15
Siete Leguas Reposado Tequila, grapefruit juice, soda, served on the rocks with a lime.
The Cape Codder__$9
Titos Vodka, Cran, served on the rocks with a lime.
Rat City Negroni__$13
Our spin on the classic Negroni:
Tanqueray Gin, Campari, Antica Formula Vermouth, our house-made honey, coriander and clove simple syrup, ginger bitters.
The Spicy Marg__$14
Our classic spicy margarita. House-infused Jalapeno Blanco Tequila, Triple Sec, house-made sour, shookeeth, poured over ice and topped with a orange soda float. This drink really represents the Essence of Avenue drinking ;)
The Grand Marg__$16
Don Julio Blanco, Grand Marnier, Fresh Lime, house-made sour, shooketh and served on the rocks with an orange. Want Kosher salt? Just ask =)
The Espresso Martini__$16
Ketel One Vodka, Don Cici's Espresso Liquor, Irishman Irish Cream, dollop of Whipped cream, shooketh on ice, strained, and topped with whipped cream. Frothy. Delicious. Classy. Yaaasss Kweeen
The Ryes Up__$14
Bulleit Rye, Sweet Vermouth, Elderflower Liqueur, Cognac, Peychaud and Aromatic bitters shooketh and strained with an orange garnish.
Drink Specials
The Viking Handshake (Highlife & a shot of Bulleit bourbon)__$13
Dansk Mjod 'Viking Blod' - have a glass of mead! 19% (3oz pour neat or over rocks)__$8
Dansk Mjod 'Odin's Skull' - Apple Cinnamon version of Viking Blod (3oz pour neat or over rocks).....$10
$5 Shot of the week - 'Cherry on Top!' - Amaretto, Stoli Vodka, Flor de Cana Dry Rum, Cherry Cordial. We may ask you to say pretty please... :)
Shot of Fireball__$5!
$3 Jello Shots (want to know the flavor, ask your server! =P)
Easy Drinkin
Pabst Blue Ribbon 4.6% (16oz) ....$6.5
Shiner Bock 4.5% (16oz).....$7.75
Bone Up 'Float Along' [Kiwi Grissette] 4.5% (16oz) ....$7.75
Bunker Brewing Co 'Chick-A-Dee' [English style Nitro] 4.3% (16oz) ....$7.75
New Belgium 'Fat Tire' 5.2% (16oz)....$8.25
Bud Light (16oz)...$6
Stella Artois (16oz)....$7.75
Sam Adams 'Summer Ale' 5.3% (16oz) $7.25
IPA
Bentwater 'Double Thunderfunk' 9.2% (12oz)....$9.75
Fiddlehead IPA 6.2% (16oz)....$10
Elysian 'Space Dust' 8.2% (16oz).....$9
Medusa 'Strange Lights in the Sky' 5.8% (16oz)....$9
Idle Hands 'Two Seam' 5% (16oz)....$8.5
Torch And Crown 'Almost Famous' 6.6% (16oz)....$8
Toppling Goliath 'King Sue' 7.8% (12oz) $9.75
Lone Pine 'Brightside' 7.1% (16oz).....$9
Mighty Squirrel 'Cloud Candy' 6.5% (16oz)....$9
Voodoo Ranger 'Juicy Haze' 7.5% (16oz)....$9
Harpoon IPA 6% (16oz) ....$7.5
Wheats/Belgian
Tucher 'Hefeweisen' 5.3% (16oz) ....$8.25
Blue Moon Belgian White 5.4% (16oz)....$8
Great North 'Snowcone Lemon Shandy' 5.3% (160zCAN) ....$10
Victory 'Golden Monkey' [Belgian Style Ale] 9.5% (12oz).....$9.25
Guinness:
Guinness 4.2% (20oz)…... $8.75
Cider
Downeast 'Original Blend' 5.1% (16oz).....$7.75
Citizen 'Brose' [Blueberry Rose-ay] 5% (16oz).....$8.5
Citizen 'Spill The Tea' [Green Tea Cider] 6% (16ozCAN)....$9
Sours/Fruits
Dorchester Brewing Company 'Punchbowl Sour' 4.9% (16oz)....$8
Springdale 'Lime of Passion' 4.5% (16ozCAN)....$10
Grimm 'Pina Pop' 6% (16ozCAN).....$12
Medusa 'Bad Omen' 7.5% (16ozCAN) ......$9.5
Singlecut 'Kim' [Hibiscus Sour] 4.2% (16oz)....$9
Lone Pine 'Blueberry Sparkler' 4.8% (16ozCAN)...$10
Toppling Goliath 'Dragon Fandango' 4.2% (16ozCan)....$16
Seltzers! / stuff like that :)
Costa Brava 6.7% Low Carbonation Canned Cocktails - Lemon Drop, Margarita, Vodka Cran.....$8
Onda Hard Tequila Soda - Grapefruit, Lime, Blood Orange.....$8.5
Twisted Tea......$6.5
Downeast Black Cherry Vodka Soda ....$8
High Noon Lemon, Mango, Pineapple....$8.5
Laguinatas 'Hop Refresher' [Non Alcoholic] ........$7.5
Dad Beer
Miller Lite .....$5.25
Narragansett.....$5.75
High Life.....$4.75
Budweiser.....$5.75
Corona.....$7
Heineken.....$7
Mich Ultra .....$4.75
Bucket Deals (5 count)
Costa Brava.........$35
High Life Bucket.....$22
Budweiser Bucket.....$25.75
Heineken Bucket....$32.5
Corona Bucket.....$32.5
Onda Bucket.....$35
High Noon Bucket.....$35
THE RING OF FIRE!!!! (we can send you 3 or 6 shots of fireball with any bucket, "RING OF FIRE!!!" will be shouted and announced as this is brought to your table.
add HALF RING OF FIRE (3xfireball)..... $14
add FULL RING OF FIRE (6xfireball) .....$28
Secret menu from Mission Dispensary coming mid-August ;)