Main content starts here, tab to start navigating
Menus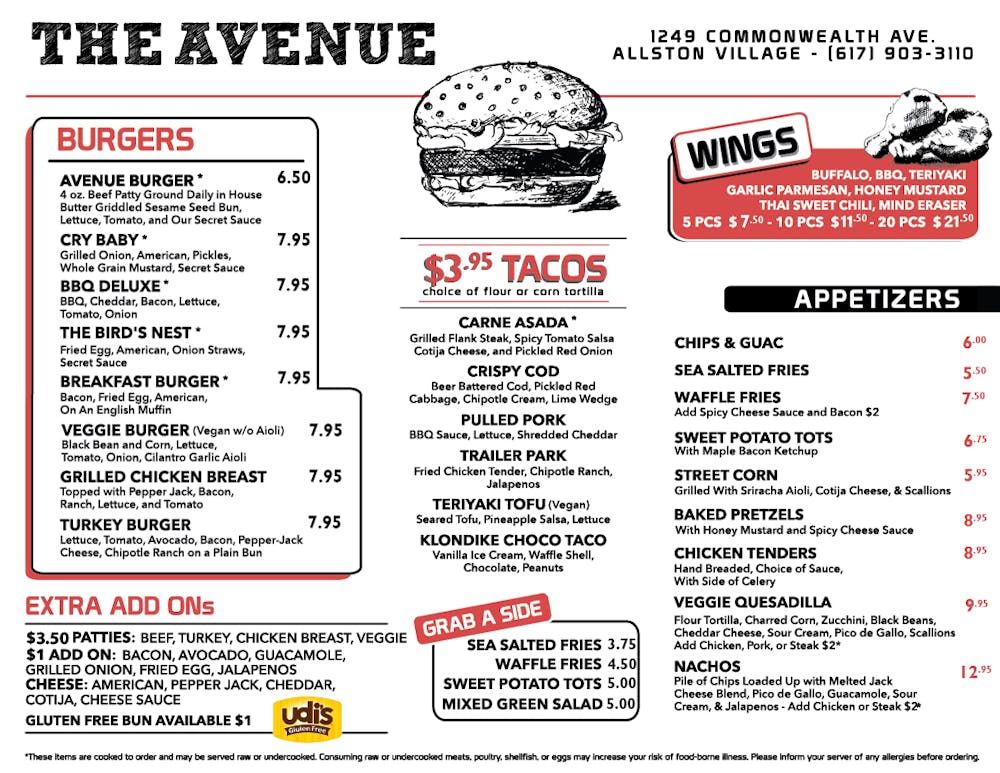 Download PDF
*These items are cooked to order and may be served raw or undercooked. Consuming raw or undercooked meats, poultry, shellfish, or eggs may increase your risk of food-borne illness. Please inform your server of any allergies before ordering.
Please understand that we have a limited capacity due to state guidelines. If a server tells you your time is up its not that we don't love you all, its that we want to make sure that everyone one our wait list has a chance to get seated in a timely manner. If its been over 90 minutes, we might ask you for the table. Thanks for understanding!
OMG, BREAKFEAST SPECIALS???? Every Day 10AM-2PM!!!
Brekky Sangy - Bacon, Egg, Cheese on a Jumbo Toasted English Muffin - $5
Donut of the Day - (Currently Oreo Cookies and Cream) - $3
One Dollar Ice Coffee - $1
COCKTAILS
The Mo-YEET-oh!, $12
For all you Mojito lovers out there, here is The Ave's answer. Bacardi rum, house made simple, fresh lime, fresh mint, Passionfruit Puree, shooketh and topped with sprite. Kick back, 6 feet, take a sip, say Yeet!
The Cape Codder, $8.50
Titos Vodka, Cran, Rocks, Lime.
The Comm-Ave Cooler, $12
Ketel One Peach and Orange Blossom Vodka, Prosecco, splash of cran and OJ. Sit back and Enjoy the sights of Comm Ave with one of these babies.
Rat City Negroni, $12.25
Our spin on a classic:
Tanqueray Gin, Campari, Antica Formula Vermouth, our house-made honey, coriander and clove simple syrup, ginger bitters.
The Spicy Marge ....$13
Our classic spicy margarita. Fresh muddled jalapeno, El Jimador jalapeno infused tequila, triple sec, house made sour, shookeeth, poured over ice and topped with a blood orange float. This drink really represents the Essence of Avenue drinking ;)
Cold Weather Cocktails
'Winter Is Coming' .......... $13
Jameson Cold Brew, Dr Mcguillicuddys Peppermint Schnapps, Rumchata shooketh on ice and strained. A little minty coffee and creamy reminder that winter is in deed on the way.
'The Fall Fashioned' ........$12
Makers Mark, black walnut bitters, house made brown sugar, vanilla and molasses maple simple syrup. Stirred on the rocks garnished w/ a cinnamon stick
'Rum And Cocoa' - Sailor Jerry Spiced Rum, hot cocoa, whip cream if you want it ;)......$9
Fighter Cider! (hot mulled cider with Jim Beam Bourbon Whiskey).....................$9
Shot of the week - "Liquid Cocaine" (Goldschlager and Jagermiester) $5!
Draft Beer
Exhibit 'A' Hair Raiser Double IPA 8% (12oz)........$9
Mighty Squirrel Sour Face Blackberry 5% (16oz).......$8
Blue Moon Belgian White 5.4% (16oz)............. $7.50
Downeast Cider 5.1% (16oz)……...... $7
Candy Mountain Charlie Raspberry Sour 5.2% (12oz)......$7
Guinness 4.2% (16oz)…........... $7.50
Harpoon IPA 5.9% (16oz)…........... $7
Jacks Abby Cinnamon Roll Porter 12% (12oz) ...........$11.50
Mighty Squirrel Cloud Candy 6.5% (16oz)........$8
Stormalong Happy Holidays Winter Cider 5.2% (12oz)..........$7.50
Jacks Abby House Lager 5.2% (16oz) ............$7
Sour Cans
Jack's Abby Cranberry Berliner Weiss (Sour) .....$8
Pontoon Brewing 'Im on a Float' (Sour)....$8
IPA Cans
Lagunitas Hazy Memory .......$8
Lone Pine 'Quantum Cuddle Kittens' ......$8.50
Pontoon Brewing 'The Floor is Lava' IPA.......$8
Lagers
Shiner Bock 16oz can..... $7.00
High Life..... $4.25 (Get a bucket of 5 for $20!)
Exhibit 'A' Goody Two Shoes......$8.50
Budweiser ..... $5.50
Other
Corona .... $6.50 (Get a bucket of 5 for $30!)
White Claw Black Cherry or Mango....$6.50
$3 "Strawberry Limeys" Jello Shots ....Absolut Lime, Absolut Strawberry, Green Jello. Enioy ;)