Main content starts here, tab to start navigating
Menus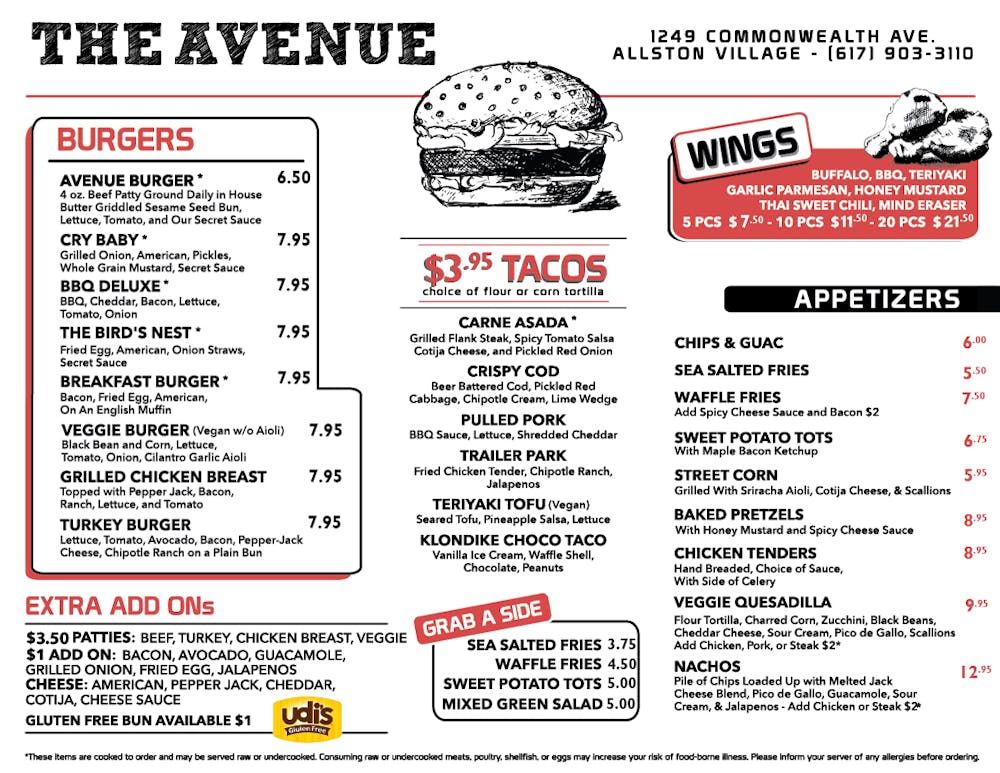 Download PDF
*These items are cooked to order and may be served raw or undercooked. Consuming raw or undercooked meats, poultry, shellfish, or eggs may increase your risk of food-borne illness. Please inform your server of any allergies before ordering.
Please understand that we have a limited capacity due to state guidelines. If a server tells you your time is up its not that we don't love you all, its that we want to make sure that everyone one our wait list has a chance to get seated in a timely manner. If its been over 90 minutes, we might ask you for the table. Thanks for understanding!
COCKTAILS
ChaCha Pumpkin Pie $13 (frozen)
A generous pour of RumChata, Wheatley Vodka, and Island Oasis ice cream base, blended up with pumpkin spices, frozen and served with pumpkin spice garnish and graham cracker pie crust. Might be getting cold out but this frozen orange desserty drink is perfect for this time of year, Enjoy!
Frozen Pina Coolatta $12.25 (add dark rum float for $2!)
Plantation Pineapple Rum, Coco Lopez, Pineapple Juice.... This has been a crowd favorite since reopening so lets keep it going!
The Mo-YEET-oh!, $12
For all you Mojito lovers out there, here is The Ave's answer. Bacardi rum, house made simple, fresh lime, fresh mint, Passionfruit Puree, shooketh and topped with sprite. Kick back, 6 feet, take a sip, say Yeet!
Summers not over! Red Sangria, $12
Aperol, Grand Marnier, lemon juice, rhubarb bitters and peach bitters topped with red wine- Dr. Steve Brule approved
The Comm-Ave Cooler, $12
It's everything you want in a patio mimosa.
Ketel One Peach and Orange Blossom Vodka, Rose Spritz bubbly, splash of cran and OJ. Sit back and Enjoy the sights of Comm Ave with one of thse babies
Rat City Negroni, $12.25
Our spin on a classic:
Tanqueray Gin, Campari, Antica Formula Vermouth, our house-made honey, coriander and clove simple syrup, ginger bitters
The Spicy Marge ....$13
Our classic spicy margarita. Fresh muddled jalapeno, El Jimador jalapeno infused tequila, triple sec, house made sour, shookeeth, poured over ice and topped with a blood orange float. This drink really represents the Essence of Avenue drinking ;)
Cold Weather Cocktails
'The Fall Fashioned' - Makers Mark, black walnut bitters, house made brown sugar, vanilla and molasses maple simple syrup. Stirred on the rocks...............$12
'Rum And Cocoa' - Sailor Jerry Spiced Rum, hot cocoa, whip cream if you want it ;)......$9
Fighter Cider! (hot mulled cider with Prizefight Irish whiskey).....................$9
Sleepy Hollow Bomb (vanilla vodka, caramel Kahlua, pumpkin beer, Guinnes)......$5
The Riess's Cup (shot) ( Screwball Peanut butter Whiskey, Godiva Chocolate liquor)......$8.50
Paddy's Irish Whiskey Pickleback................ $4 !!
Proper 12 ...............$6
Draft Beer
Lord Hobo Boomsauce 8% (16 oz).......$8.50
Lagunitas IPA 6.2% (16 oz) ........$7.50
Blue Moon Belgian White 5.4% (16oz).. $7.50
Hubbards Cave Cocoa Vanilla Stout 12%! (12oz).........$10.50
Downeast Cider 5.1% (16oz)……. $7
Stormalong Red Skies at Night 5.8% (16oz)......$7
Victory Golden Monkey 9.5% (12oz)...... $8.50
Dogfish Sea Quench 4.9% (16oz)……. $7
Guinness 4.2% (16oz)… $7.50
Harpoon IPA 5.9% (16oz)… $7
Cloud Candy IPA 6.5% (16oz).....$8
Two Roads Passionfruit Sour 5.2% (12oz)......$8
Harpoon Dunkin' Punkin' Spiced Latte Ale 5.2% (16oz)..........$7(add cinn/sugg rimjob for free)
City Roots Pumpkin Cider 4.8% (16oz).......$7 (add cinn/sugg rimjob for free)
Bottled Beers
Lord Hobo Doomsauce! (16oz can).......$8.50
Budweiser ..... $5.50
Veltins Pilsner (16oz can) ....$6!
Corona or Corona Light.... $6.50 (Get a bucket of 5 for $30!)
Heineken.... $6.50
High Life..... $4.25 (Get a bucket of 5 for $20!)
Bud Light Mango Seltzer..... $6.00
White Claw Black Cherry or Mango....$6.50
Shiner Bock 16oz can..... $7.00
$3 "OOO A PIECE OF CANDY!" Jello Shots ....Absolut Lime, Absolut Strawberry, green Jello. Enioy ;)